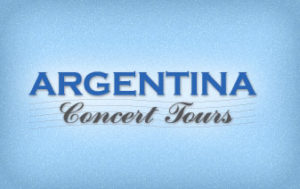 Argentina Concert Tours offers the highest-quality Performance Tours to Argentina. Consider the following four advantages that ACT has compared to other music operators organizing concert tours to the Southern Cone of South America:
Largest Portfolio of Quality Musical Contacts
We have more quality musical contacts in Argentina than any other Argentine music operator, including:
Well-Connected Ensemble Directors
Organizers of Prestigious Festivals
Officers of Leading Music Organizations
Qualified & Experienced Musicians on Staff
ACT has qualified and accomplished musicians on staff, including:
Christopher Holownia, former Music Director and International Tour Manager of the Yale University Whiffenpoofs, one of the best-known a cappella ensemble in the United States. Christopher presently serves as the music director for several organizations in the Boston area, including St. John the Evangelist Church in Wellesley, Emerson College, Turtle Lane Playhouse, the Cambridge Rindge & Latin School, and the Weston Drama Workshop.
We understand the special musical needs of ensemble directors leading their groups on overseas tours.
Representative Offices in Buenos Aires & Rio Cuarto, Cordoba Province
We have representative offices in both Buenos Aires, the nations capital, and Río Cuarto, in the center of Argentina close to other destinations that are very popular with touring ensembles, including Cordoba city, Mendoza, and smaller cities where foreign musical groups do not visit very often so they are received very enthusiastically, including Río Cuarto itself !
30+ Years of Group Travel Experience
Philip Perry, Gerry Diaz Mansilla, and Christopher Holownia collectively have over 30 years of group travel experience. They have seen it all or pretty close to it allowing them to plan performing tours taking into account all of the necessary arrangements and details.