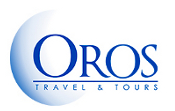 Oros Travel & Tours S.L. is one of the most reliable, trusted and respected Destination Management Companies in Spain. Our family run business structure provides flexibility, adaptability and responsiveness to your specific needs. Our dedicated and passionate approach is all about making your experiences smooth as possible. Our vast personal and collective experience gained from tailoring the smallest details for hundreds of tours gives us an extensive know-how in every new project. We are proudly in love with the outstanding cultural legacy of Spain and our unique culture, and our very existence is about sharing this in a unique way.
Offering lifetime experiences is where we focus and no matter if your interest is music, faith, history, Spanish language, art, archaeology, architecture, photography or culinary, we will make our best effort to oblige you to come back again and to keep Spain in your heart forever!
If your wish is to discover the authentic culture and tradition of Spain then Oros Travel is your partner of choices. We will be your expert facilitators for a memorable lifetime experience.
Contact your new Spanish 'amigos' today. We will be pleased to explain to you why you will want to travel with us!
Oros Travel & Tours was established in Madrid in 1998.